Candidates Advice
How to Excel In an Interview/Trial
You will usually be invited to attend a trial as part of the job interview.  A trial gives you an opportunity to show case your skill set whilst experiencing the kitchen and team you will be working with.
To make the best of your trial ensure that you:
Have your Clean, Pressed Chef Whites, Safety Shoes and Sharpened Knives
Are Clean and Presentable
Prepare for your trial by researching the Hotel / Restaurant / Unit through their website
Be Punctual for your appointment ensuring that you can travel to your trial for the expected arrival time.
Show initiative, ask questions and take a pen and paper to take notes 
​
Consider
It is common for hotels and some restaurants to offer staff accommodation with the job. If you are prepared to live away from home this will offer you many more opportunities within the industry from gastro style properties to large hotels with Michelin rated restaurants.
Remember
As a young chef joining a kitchen having industry experience is great but one of the most important things you can offer is enthusiasm, commitment, a good attitude and the desire to learn.
Getting DBS Checked
The Disclosure and Barring Service (DBS) helps employers make safer recruitment decisions and prevent unsuitable people from working with vulnerable groups, including children.
You might need one to demonstrate your suitability to a potential employer for a job (for example, if you are applying for a position within the care sector as a care home chef or a cook in a hospital/school)
To apply for a DBS Check please click the link: https://dbscheckonline.org.uk/
The Perfect CV
Your CV is your opportunity to sell yourself so ensure it is carefully presented giving the information required.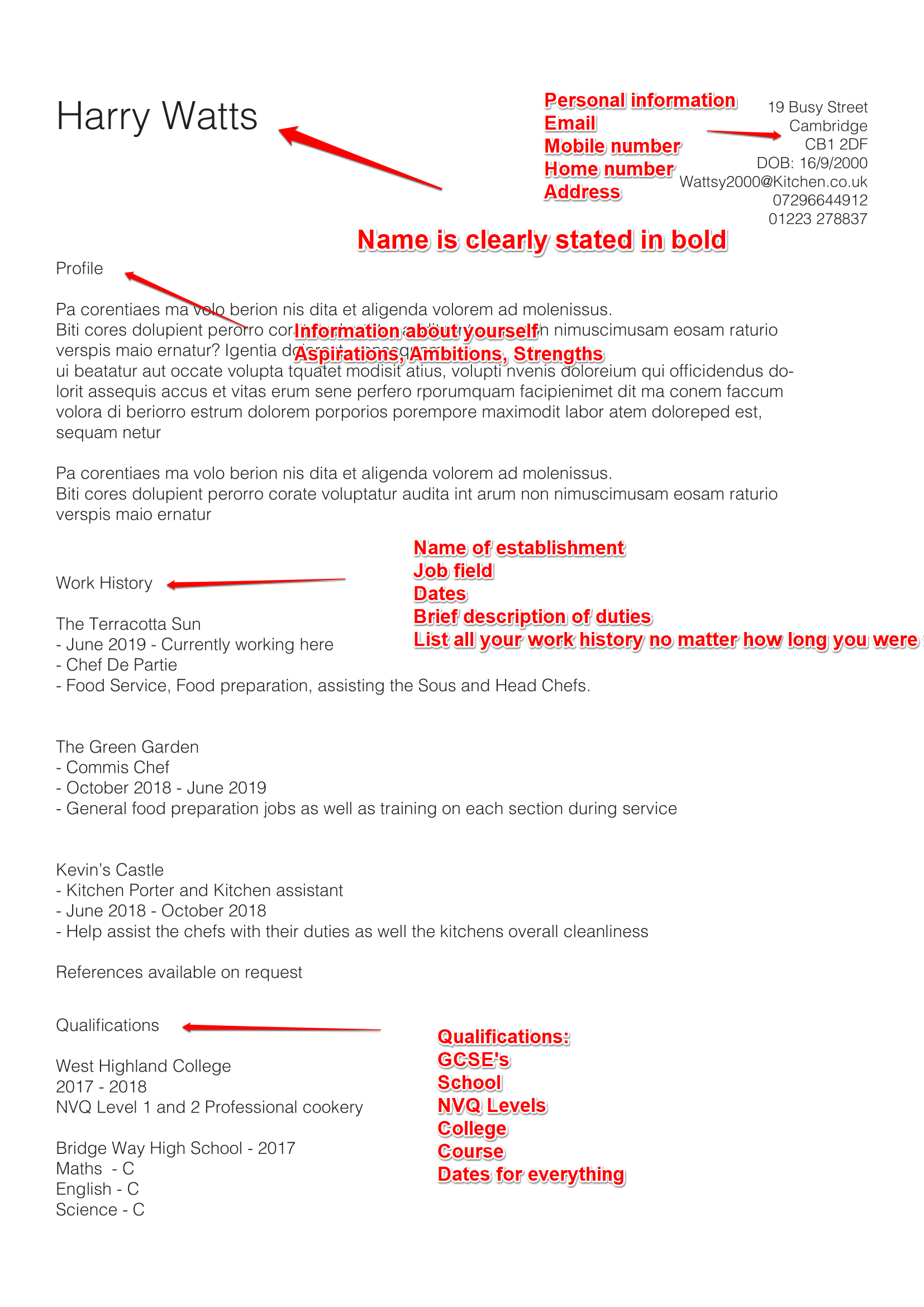 Always put "References available on request" as this can take up too much space on the CV that they don't need to read just at this time.
For further help and support on building a CV as well as applying to job opportunities contact First Contact Chefs
​